Blackmagic Design Blackmagic Studio Camera 4K Plus
CINSTUDMFT/G24PDD
New product
Blackmagic Studio Camera 4K Plus

Designed as the perfect studio camera for ATEM Mini, this model has a 4K sensor up to 25,600 ISO, MFT lens mount, HDMI output, 7" LCD with sunshade, built in color correction and recording to USB disks.

This product is no longer in stock
Availability date:
By buying this product you can collect up to 138 loyalty points. Your cart will total 138 points that can be converted into a voucher of 13,80 €.
Remove this product from my favorite's list.
Add this product to my list of favorites.
Blackmagic Studio Camera 4K Plus

The Blackmagic Studio Camera 4K Plus
has been specifically designed as the perfect camera for ATEM Mini. It's the same high quality broadcast camera, but the HDMI centric design removes all the expensive broadcast connections so it's much lower cost. The HDMI is incredibly powerful as it connects video to the ATEM Mini, while at the same time camera control, tally and the remote record trigger is sent to the camera using the same HDMI connection. That makes it very fast to set up for a job.
Camera Features
Effective Sensor Size
17.78mm x 10mm (Four Thirds)
Lens Mount
Active MFT Mount.
Lens Control
Iris, focus, zoom on supported lenses.
Dynamic Range
13 Stops.
Dual Native ISO
0dB and 18dB gain.
Sensitivity at 0dB Gain
f11 with 2160p59.94.
f12 with 2160p50.
at 2,000 lux with 89.9% reflectance.
Signal to Noise Ratio
63dB for 2160p.
Shooting Resolutions
3840 x 2160 (Ultra HD) up to 60 fps.
Frame Rates
23.98, 24, 25, 29.97, 30, 50, 59.94 and 60 frames per second.
Off-speed frame rates up to 60 fps in Ultra HD.
Focus
Auto focus available using compatible lenses.
Screen Dimensions
7 inch 1920 x 1200
Screen Type
LCD capacitive touchscreen.
Screen Brightness
600 nits
Controls
Touchscreen camera settings and menus with rotary settings dial, program button, F1, F2 and F3 assignable function buttons, brightness contrast and peaking dials.
Mounting Options
2 x 1/4 inch tripod mount.
1 x 3/8 inch tripod mount.
Connections
HDMI 2.0 Video Outputs
1
Analog Audio Input
1 x 3.5mm Stereo Input. Can also be used for Timecode input.
Analog Audio Output
1 x 3.5mm mini jack for headphones.
Remote Control
Remote camera control over HDMI.
Computer Interface
2 x USB Type‑C 3.1 Gen 1 (up to 5Gb/s) expansion ports for external recording and focus / zoom demand connection. Software updates using USB‑C Port A.
Audio
Microphone
Integrated stereo microphone.
Built in Speaker
1 x mono speaker.
Standards
SD Video Standards
None
HD Video Standards
1080p23.98, 1080p24, 1080p25, 1080p29.97, 1080p30, 1080p50, 1080p59.94, 1080p60
Ultra HD Video Standards
2160p23.98, 2160p24, 2160p25, 2160p29.97, 2160p30, 2160p50, 2160p59.94, 2160p60
HDMI Audio Sampling
Television standard sample rate of 48 kHz and 24‑bit.
Media
Media
2 x USB-C 3.1 Gen 1 expansion ports for externalmedia for recording Blackmagic RAW.
Media Format
Can format media to ExFAT (Windows/Mac) or HFS+ (Mac) file systems.
Supported Codecs
Codecs
Blackmagic RAW Constant Bitrate 3:1,
Blackmagic RAW Constant Bitrate 5:1,
Blackmagic RAW Constant Bitrate 8:1,
Blackmagic RAW Constant Bitrate 12:1,
Blackmagic RAW Constant Quality Q0,
Blackmagic RAW Constant Quality Q1,
Blackmagic RAW Constant Quality Q3,
Blackmagic RAW Constant Quality Q5
Storage Features
Storage Type
2 x USB‑C 3.1 Gen 1 expansion ports for external media.
Recording Formats
Blackmagic RAW 3:1, 5:1, 8:1, 12:1, Q0, Q1, Q3 and Q5 in Ultra HD 3840 x 2160 at the selected frame rate.
Storage Rates
Storage rates based on 30 frames per second.
3840 x 2160 (Ultra HD)
Blackmagic RAW 3:1 - 127 MB/s
Blackmagic RAW 5:1 - 77 MB/s
Blackmagic RAW 8:1 - 48 MB/s
Blackmagic RAW 12:1 - 32 MB/s
Blackmagic RAW Q0 - 96 to 190 MB/s
Blackmagic RAW Q1 - 64 to 153 MB/s
Blackmagic RAW Q3 - 43 to 109 MB/s
Blackmagic RAW Q5 - 26 to 64 MB/s
Control
External Control
Blackmagic Zoom Demand and Blackmagic Focus Demand for controlling your camera and lens from tripod handles.
Blackmagic Control Protocol over HDMI for external control when used with a compatible ATEM switcher with ATEM Software Control or ATEM Advanced Panel. Includes control of some camera settings, focus, iris and zoom with compatible lenses, color corrector, tally and record start and stop to external media via USB expansion port.
Color Corrector
Tally
Live Tally Indicator
1 x front facing for talent,
1 x rear facing for operator.
Software
Software Included
Blackmagic Camera Setup for Mac and Windows.
Operating Systems
Mac 10.15 Catalina,
Mac 11.1 Big Sur or later.
Windows 10, 64-bit.
Power Requirements
Power Supply
1 x External 12V DC 60W power supply.
Power Inputs
1 x 12V DC locking 5.5 mm barrel connector.
Power Usage
26 ‑ 40 W.
Optional Accessories
Blackmagic Focus Demand
Blackmagic Zoom Demand
ATEM Mini switchers
ATEM Television Studio HD and HD Pro switchers
Blackmagic 3G‑SDI Shield for Arduino
Environmental Specifications
Operating Temperature
0° to 40° C (32° to 104° F)
Storage Temperature
-20° to 45° C (-4° to 113° F)
Relative Humidity
0% to 90% non-condensing
In the box
Blackmagic Studio Camera 4K Plus
Blackmagic Studio Camera Sun Shade
Tripod Mount compatible with 15mm lightweight rails
Turret Dust Cap
External 12V DC power supply with locking connector and international sockets adapters for most countries.
Warranty
12 Month Limited Manufacturer's Warranty.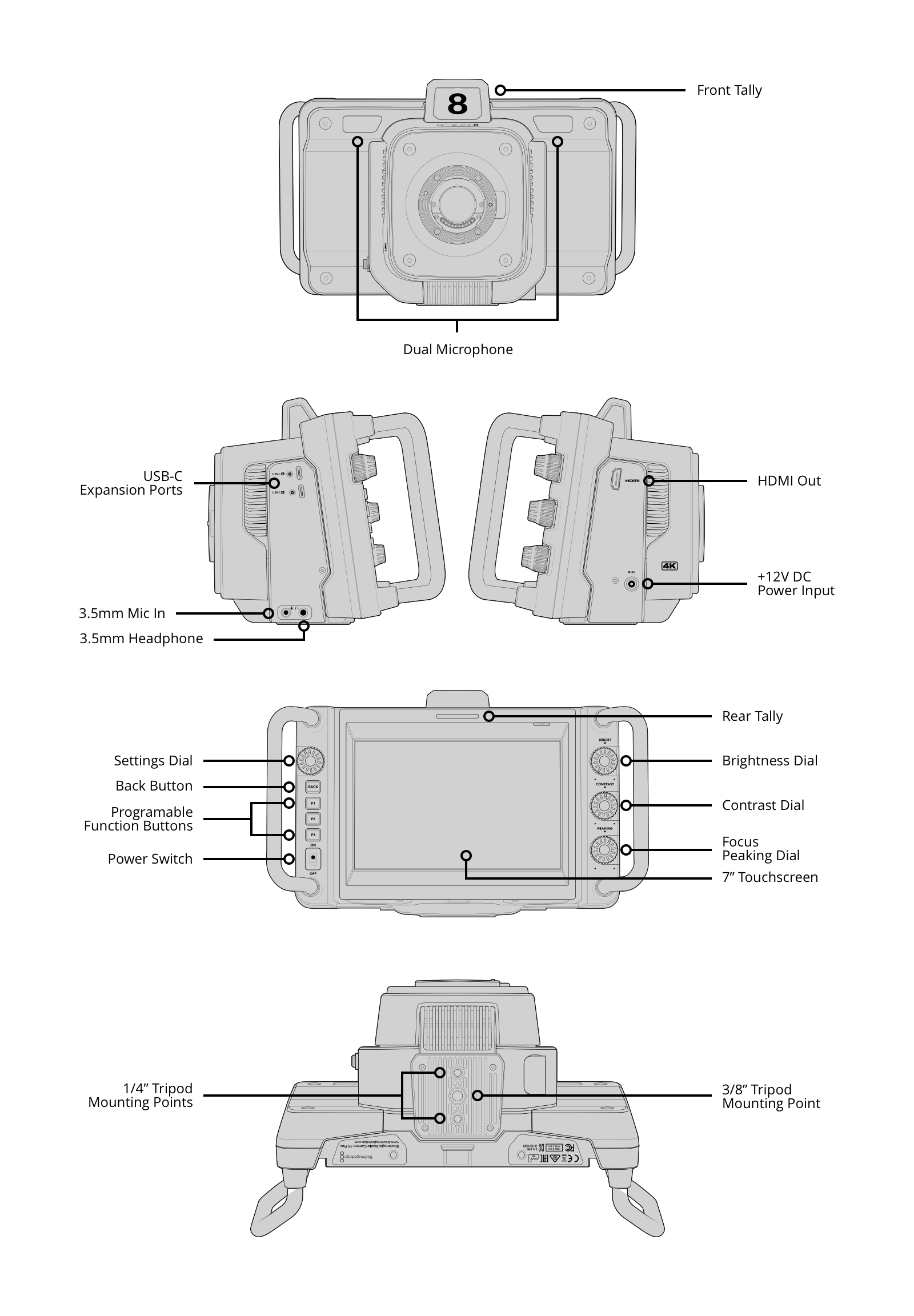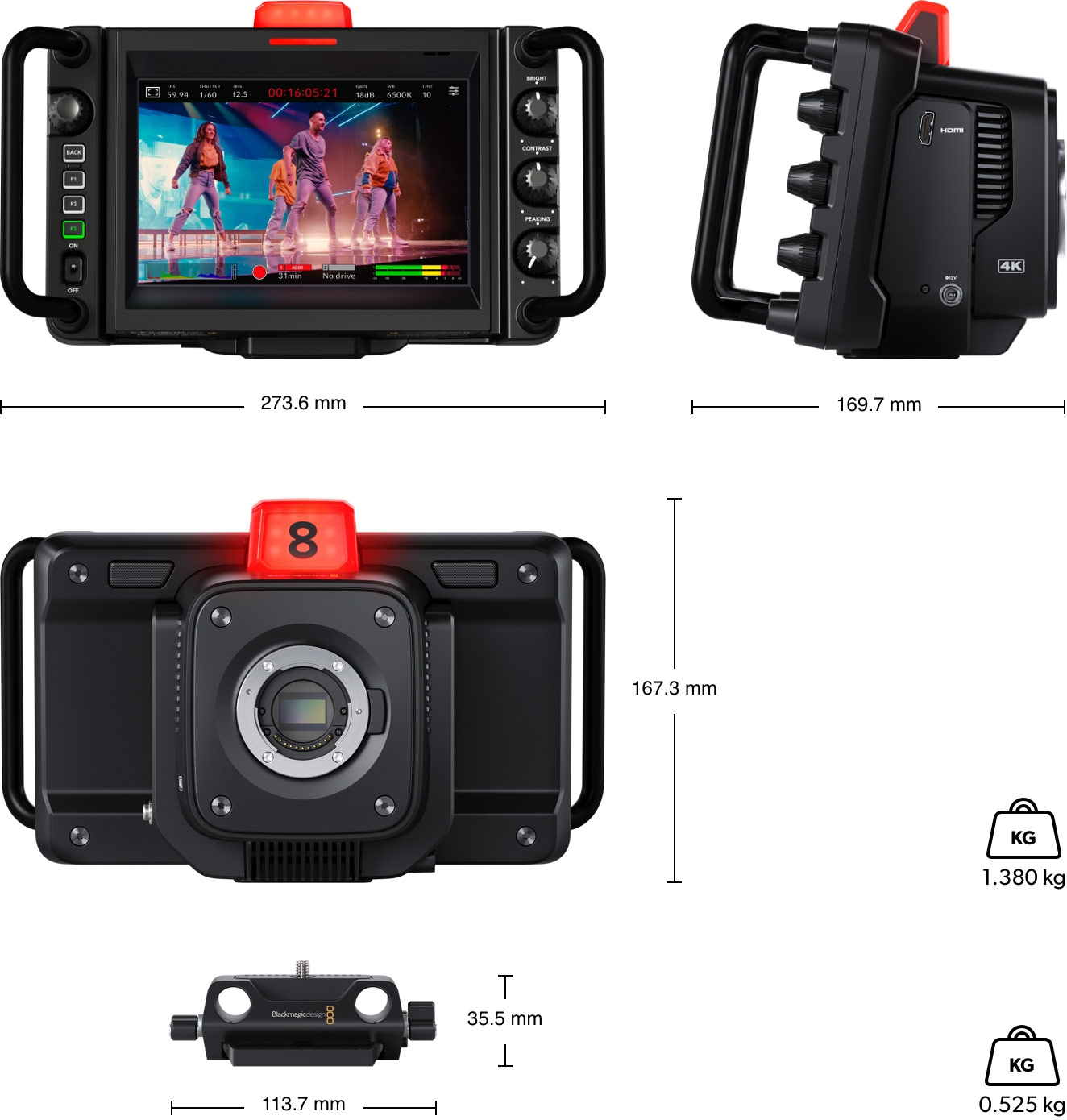 The SIAE contribution ex D.Lgs. n. 68/2003 is paid where applicable.
Prices include SIAE contribution ex D.Lgs. n. 68/2003 where applicable.
RAEE contribution ex D.Lgs 151/2005 is paid where applicable without exercising the right of payback.
If you buy a new product of the same type on our site you can get rid of the product that will be collected by specialized operators free of charge at your location and brought to the treatment plant for disposal.

Contact us to arrange for pickup at your home.

(notice according to art. 1 comma 1 of DM 8 Marzo 2010 n. 65)
No customer reviews for the moment.